As we reach the end of a busy Financial Year, March and quarter, I want to start this monthly update with some good news, as there have been some truly amazing things happening in the UK tech ecosystem recently.
UK tech ecosystem reaches $1 trillion in value!
Last week, the UK tech ecosystem reached a $1 trillion valuation altogether, which is a significant milestone. More on that here.
Secondly, on March 8th, we celebrated International Women's Day, and shared some amazing advice from inspiring female tech leaders in our network. We also celebrated the fact that investment into female-founded tech firms is on track to break records this year, with our data revealing that the amount raised in 2022 so far has already surpassed the amount raised in 2019 and 2020.
Some female founded companies which recently raised include our amazing Applied AI alumni C the Signs who are helping GPs identify patients at risk of cancer at the earliest and most curable stage of the disease, and our inspiring Net Zero climate tech company Sphera who are creating low-carbon construction material alternatives to help the UK reach net zero faster.
Ukraine in our thoughts
At Tech Nation, we are hugely mindful of the terrible events in Ukraine. Tech Nation's visa team has been prioritising applications from any nationality currently in Ukraine, Russia and Belarus and any Ukrainian nationals who have fled. Latest visa updates can be found here.
If you would like to know more or how you could help, please visit our resources page on our website, here. Tech Nation has additionally made financial donations to two causes set up with local tech ecosystem CEOs, and is encouraging others to do the same. One is Sunflower Relief – set up by London-based entrepreneur Irra Ariella Khi, CEO of Zamna – focused on giving direct support to people on the ground, and the other is this – set up by Eugene Tsyrklevich, CEO of Parkopedia, focused on supporting refugees fleeing to Moldova.
An important leap forwards in the race to Net Zero
Earlier this month, we had some more good news, as our data revealed that investment into UK climate tech companies has surged in the 6 months following the COP26 conference last October; compared with the same 100 days in the previous year, VC investment since COP26 has increased by 62% – to $926 million!
And that wasn't the only milestone to celebrate in UK tech's fight against climate change this month, as I'm delighted to say 250 UK tech companies have now joined Tech Zero and set an ambitious net zero target by the end of 2021.
Our work is far from done. If you're a UK tech company and you haven't yet joined Tech Zero, do visit the website and find out more about how you can help. We promise we'll give you a helping hand along the way!
Rising Stars 4.0: The UK's top 10 rising startups revealed
We've also just announced the 10 winners of Rising Stars 4.0; our annual competition to find the UK's best and brightest early-stage tech startups from all regions of the UK.
This year's incredible winners (HR DataHub, Kuberno, Kythera AI, MYNDUP, Naurt, Renude, Settld, RDvault, xigxag and Zoa Rental) span tech subsectors healthtech, fintech, gaming, retail, AI, lawtech, HRtech, spacetech and – for the first time in Rising Stars history – deathtech (with end of life admin company Settld).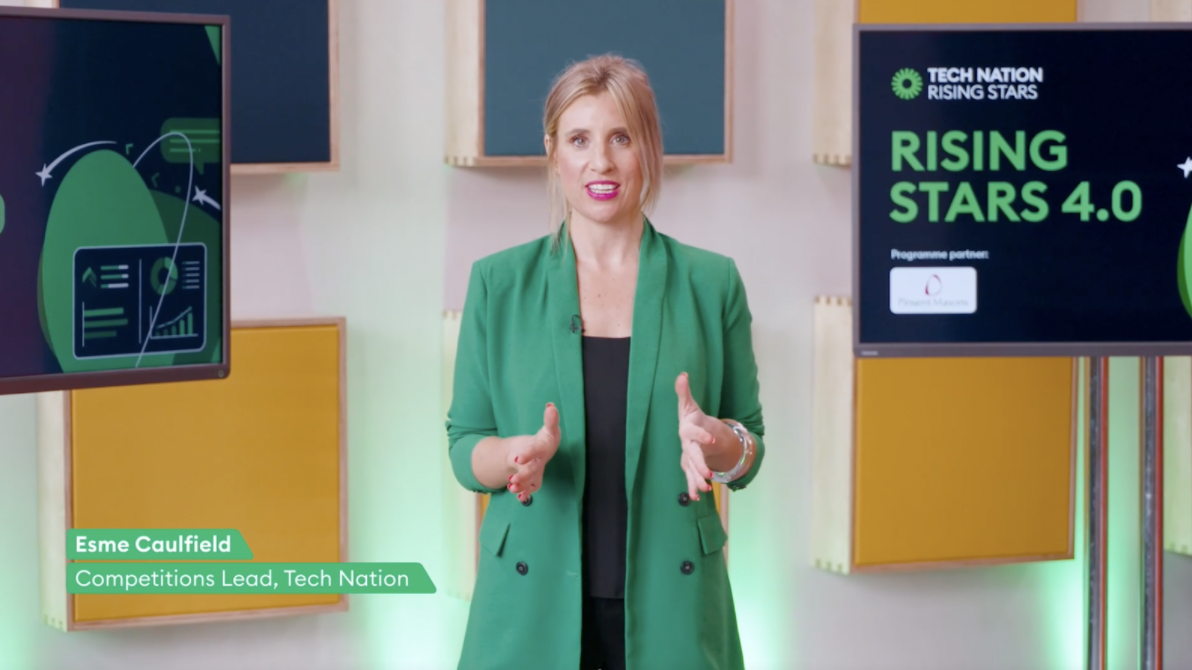 Very excitingly, this is our most diverse set of winners yet, as the majority (6 out of the 10) have female founders or co-founders, and 7 out of the 10 hail from outside of London and the South East. A huge congratulations to all of this year's deserving winners!
Programmes; Libra 1.0, Upscale 7.0, Fintech 4.0, and Applied AI 3.0 all graduate from their programs
Last week, we had a fantastic evening wrapping up an amazing six months of our Tech Nation growth programmes with a fantastic grand finale event ('Level Up With Tech Nation'), which brought over 150 of the UK's fastest-growing companies from all different subsectors together in London to network with other tech leaders, hear from some amazing speakers and celebrate graduating from our Tech Nation programmes.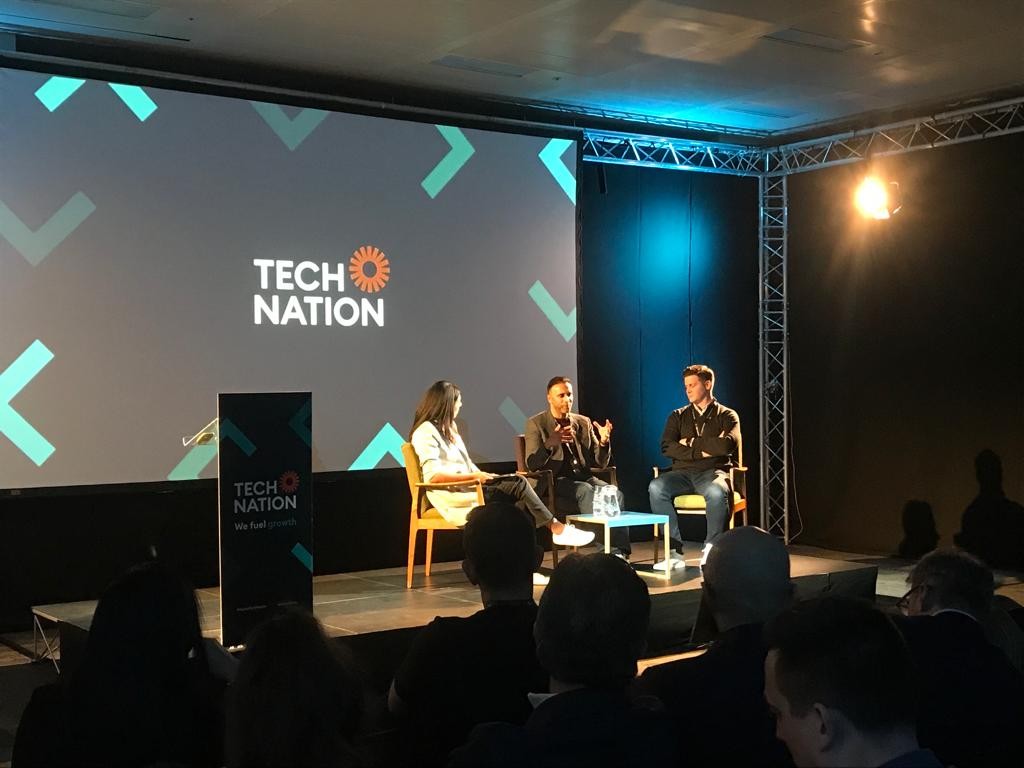 Our Client Engagement Director Liz Scott hosts a panel with Zilch CEO Philip Belamont and PatSnap CEO Ray Chohan – both tech founders of successful unicorns at our Cross-Programmes finale event
Celebrating the achievements of our Fintech Delivery Panel over the last few years!
Our Fintech Delivery Panel had their final meeting with HM Treasury and Economic Secretary John Glen MP at the start of this month, which celebrated all of the panel's fantastic work helping fintech and insurtech businesses become more successful, inclusive and better supported over this past year.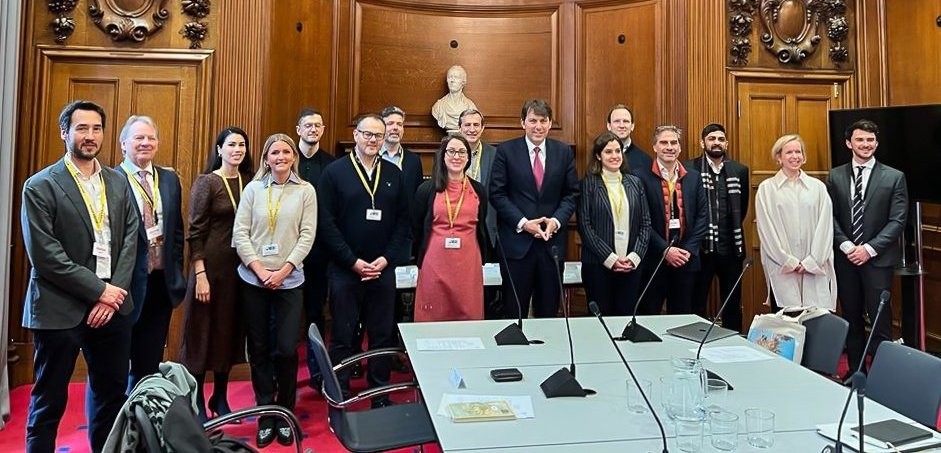 The FinTech Delivery Panel with Economic Secretary to the Treasury, John Glen MP
I want to say a huge thank you to our FDP and chair, Eileen Burbidge, and Insurtech Board and chair, Louise O'Shea for all their important work, especially on building partnerships between the UK's scaling fintechs and large financial institutions (with the Fintech Pledge), on promoting financial inclusion in the UK (with their Finclusion 2021 campaign), and shining light on the areas we must work to improve (with their 'Ethnic Diversity in UK Fintech' report).
And that's just scratching the surface, as in the last couple of weeks alone, the Insurtech Board have published this guide to fundraising for insurtech businesses, an exploration of UK fintech  partnerships in collaboration with EY, and the Finclusion podcasts about the role the fintech sector can play in financial inclusion, with some great guests (including Monzo, Atom Bank, Loqbox and more).
Tech scaleup engagement around the UK
Earlier this month, I travelled to Cardiff with the Tech Nation Board, meeting with local founders and influencers in the tech ecosystem.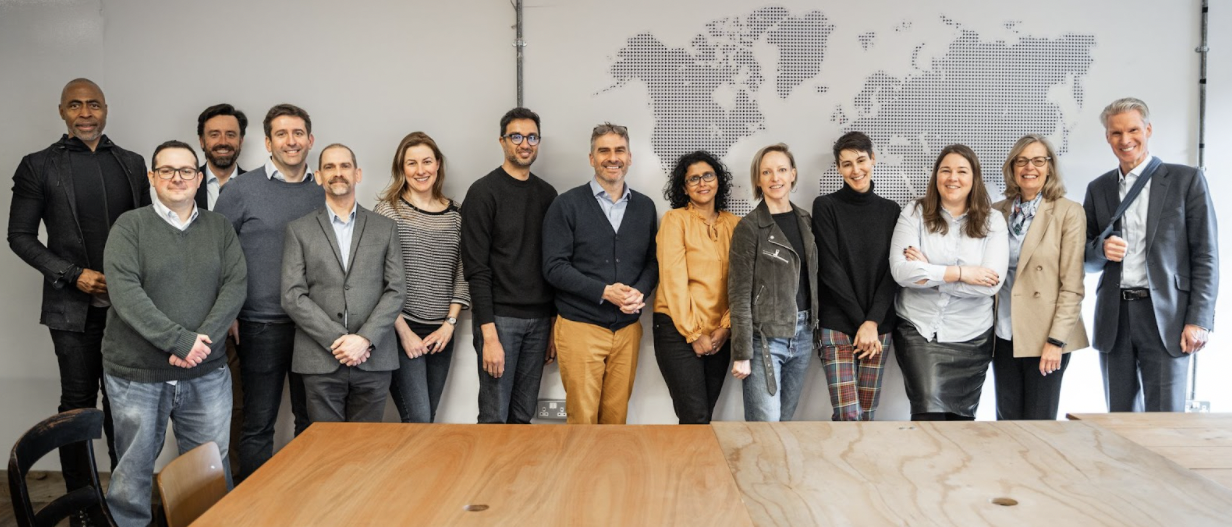 Tech Nation Board & exec team in Cardiff.

During a roundtable and networking lunch at Tramshed Tech, we had the chance to discuss digital skills, digital disruption, talent recruitment and retention with Cardiff's tech leaders. I was struck by the low levels of funding and exceptional opportunities for the Welsh tech scene, and the need for even more funding so it can reach its full potential.
Meanwhile, up in Leeds, our AI Programme Lead Sam Beni also hosted a fantastic 'AI Startup Success Stories' panel at the AI Tech North event, featuring founders from our Applied AI alumni companies Antonym, Vet AI and Seeai.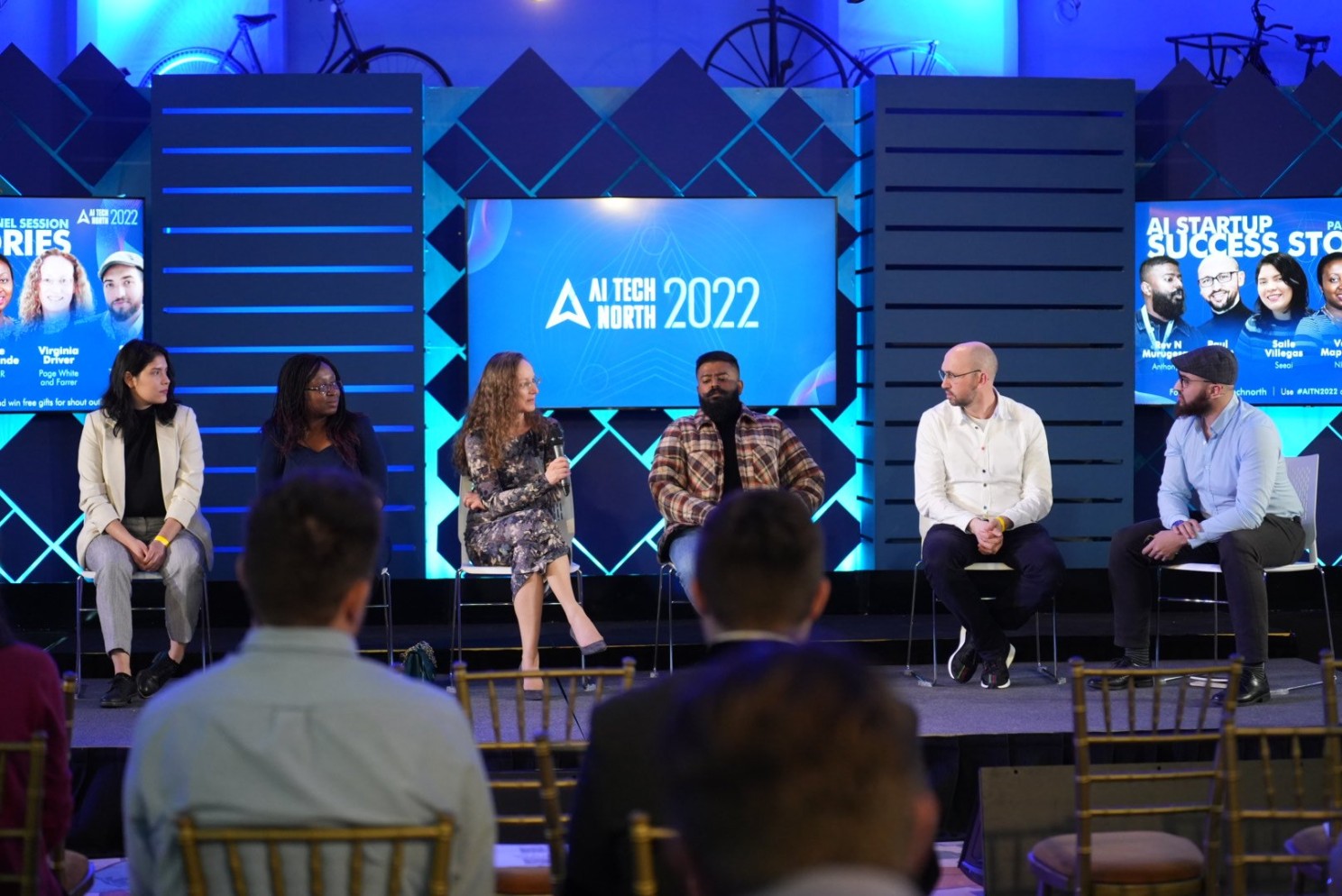 We heard even more insights from leaders in the tech space during the 4 roundtables we hosted with Google for Startups this month, where we heard experts discussing topics such as access to finance, access to talent, international expansion and innovating for impact.
Our International team is touring the UK
Alongside continuing their highly anticipated APAC webinar series, our International team are currently touring the country looking for the next UK tech scaleups wanting to accelerate their international growth – from the US to Asia Pacific!
So far on their Inter(National) Roadtrip, they've visited London, Cambridge, Manchester and Bristol to discuss international growth with scaling tech companies in the regions – and they're heading to Yorkshire and Edinburgh in April, so if you're a tech scaleup in either of those areas looking to expand internationally, please don't hesitate to come along. This roadtrip comes as applications for cohort 3.0 of the International Growth Programme for Southeast Asia, Australia, Japan and South Korea opens. Don't forget to apply here!
Our International team met with founders in London, Cambridge and Bristol as part of their Inter(National) Roadshow
The Global Talent Visa
Our Global Talent Visa Lead, Josh Winfield, has also been travelling far and wide to share the good news about Tech Nation's Global Talent Visa. A couple of weeks ago, Josh headed to America to attend the UK Consulate's Visa event in Boston to share how global talent can build brilliant lives, careers and businesses here in the UK.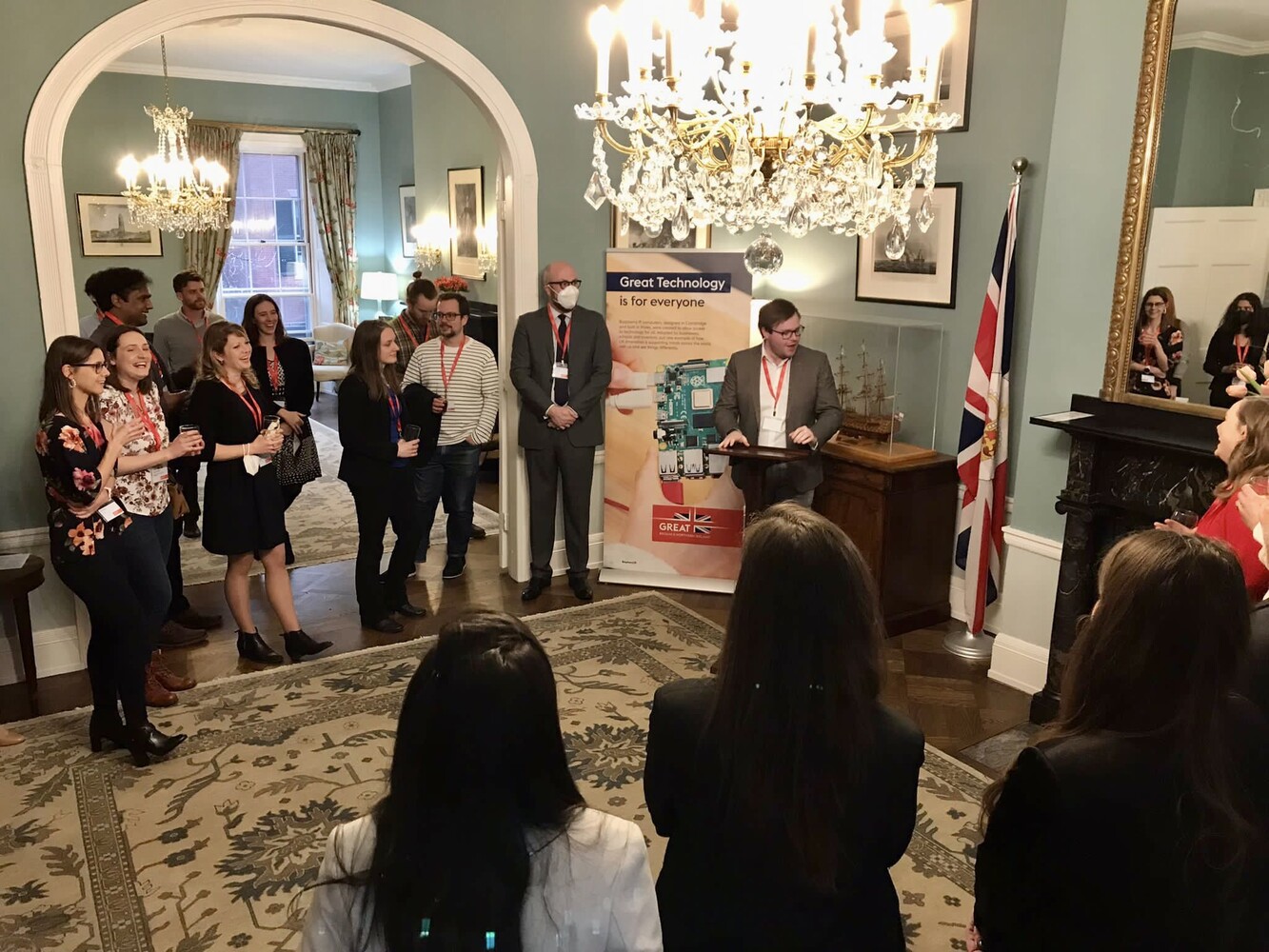 We also hosted our Global Talent Showcase in Glasgow this month, where we explored the state of Scotland's tech ecosystem and how it's being supported by better access to global talent, and heard directly from some of our incredible current Visa holders about the amazing impact the Global Talent Visa can have on Scottish businesses' growth.
Most importantly, as per above, our Visa team is also working extremely hard around the clock to support those affected by the war in Ukraine. Please head to our frequently updated Visa Updates page to learn more.
Until next time, stay well. And feel free to feedback.